Walk or Move from April 14 to May 14, you can even start today!
Together, let's fund more research for breast cancer.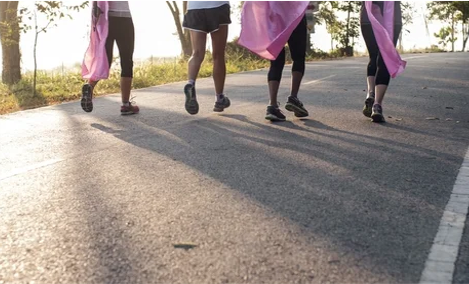 We're Breast Cancer Canada. We do one thing: bring life-changing breast cancer research into market.
You can help. By joining our Virtual Walk-a-Thon. Set up a team, or move on your own. Rally pledges and support. Dollars for distance, time, reps. Raise money for a goal of one more gym day a week, or 30 more minutes of yoga every day, or one big 20km walk on one day. Whatever you like, as much as you like, whenever you like – from now, until Mother's Day.
Every step, every pledge, and every dollar supports scientific discovery. The more we know, the sooner we can end breast cancer.
PLUS – if you happen to be in Mississauga or Ottawa, you can join our in-person walks on Mother's Day!
1. Register
to move with us this spring and customize your page with your reason for participating — it's fast and there are no sign-up fees!
2. Share
your personal fundraising link with your network and amplify the impact through social media.
3. Keep your momentum
by moving and raising funds for breast cancer research.